Recent comments
Restaurant Cuisines
Arab
,
American
,
British
,
Cafe
,
Chinese
,
Doughnuts
,
Fast Food
,
Filipino
,
French
,
Indian
,
Iranian
,
Italian
,
Juices and Smoothies
,
Lebanese
,
Malaysian
,
Mediterranean
,
Mexican
,
Moroccan
,
Pakistani
,
Pizza
,
Portuguese
,
Sandwiches
,
Seafood
,
Spanish
,
Steakhouse
,
Sushi
,
Thai
,
Turkish
,
Vegetarian
,
Qatari
,
All Restaurants
NICKI MINAJ LIVE IN DOHA.
By TylaDurden_LIVE... on Sun, 01/04/2012 - 6:21am
Date and Time:
Fri, 11/05/2012 - 9:30pm
Where:
INTERCONTINENTAL HOTEL BEACH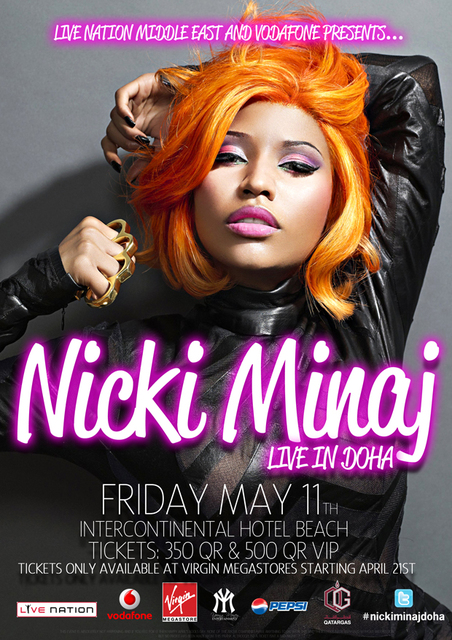 INTERCONTINENTAL HOTEL BEACH
TICKETS ARE 350 QATAR RIYALS & 500 QATAR RIYALS FOR VIP, 2900 QATAR RIYALS FOR MEET & GREET
TICKETS WILL BE AVAILABLE AT VIRGIN MEGASTORES AND LIVENATION ME SITES STARTING APRIL 21ST.
DONT MISS THE BIGGEST MUSIC EVENT IN QATAR !!!
FOR MORE INFORMATION VISIT LIVENATION.AE
After releasing three mixtapes between 2007 and 2009 and being signed to Young Money Entertainment in August 2009, Nicki Minaj released her debut album, Pink Friday, in November 2010. It quickly became a commercial success, peaking at number one on the U.S. Billboard 200 and being certified Platinum by the Recording Industry Association of America (RIAA) a month after its release.She became the first female solo artist to have seven singles on the Billboard Hot 100 at the same time. Her second single, "Your Love", reached #1 on the Billboard Hot Rap Songs chart, making Minaj the first female artist to top the chart unaccompanied since 2002.She also became the first female artist to be included on MTV's Annual Hottest MC List.Minaj was named the 2011 Rising Star by Billboard. Her second studio album, Pink Friday: Roman Reloaded will be released on April 3, 2012.
#nickiminajdoha