Best Dressed First Lady?
Not sure if this has been posted yet, but the Huffington Post is running a contest to see who's the best dressed first lady, Carla Burnei or our own elegant, lovely and devastatingly gorgeous Sheikha Mozah! (I think you can guess who I voted for) :) Click to see the pics.
http://www.huffingtonpost.com/2009/06/24/carla-bruni-sarkozy-vs-qa_n_219...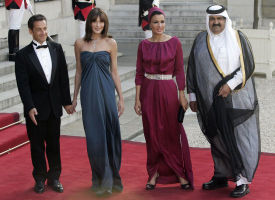 Oh, and they didn't ask, but Frankly I think the Emir looks much more handsome then Sarkozy!